Frequently Asked Questions:
What Is An EPC?

An Energy Performance Certificate (EPC) is intended to tell you and potential buyers and renters how energy efficient a house is and make recommendations on how to improve the properties energy performance. An EPC is now legally required for selling and letting a residential property in England and Wales.
What Is The Cost?
At Lets move UK we have an energy assessor which enables us to carry out the EPC promptly and at a competitive cost of just £99
How Long Do They Last?

EPC's are currently valid for a period of 10 years.
Who Is Responsible For Providing An EPC?
It is the responsibility of the seller and landlord to provide an EPC, however Lets Move UK can provide this for you.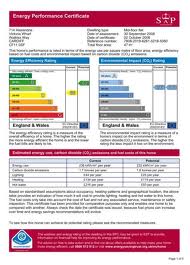 What If I Don't Get An EPC?
There is a fixed penalty of £200 which is enforcement by Trading Standards Officers. There are also penalties for not complying with the duty to commission an EPC before putting the property on the market.
What is meant by "commissioned an EPC"?
This means that a seller or a person acting on their behalf i.e.an estate agent must have instructed an accredited Energy Assessor to carry out an energy performance assessment.